Since I'm working through all my food issues right now I decided to treat myself to
Ellie Krieger's book
. I'm actually not a fan of Ellie's show on Food Network and I can't think about her without feeling a little ill about the time she made a
chocolate sauce
for her beef tenderloin, but the book was recommended to me by more than one person.
I figured the best thing to do was start off with something sweet. I mean, that's hard to screw up. I settled on her apple-cranberry turnovers. Not too long ago I fell in love with Dorie Greenspan's
apple turnovers
so a lower calorie substitution would be nice for me to have.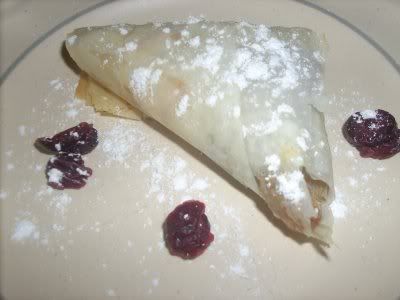 These turnovers aren't too different from Dorie's except that they are made with phyllo instead of a yummy, buttery pastry crust. I like phyllo, but not for turnovers. Luckily I was smart and halved the recipe. Even with halving it, though, I ended up with way too much filling. Landon's been slowly getting rid of it for me.
My other issue is that the recipe calls for crushed ladyfingers. In my mind ladyfingers are soft cookies, but since it specifies
crushed
I assume she means a crunchy cookie. I couldn't locate crunchy ladyfingers and even thought about maybe using shortbread but ended up going with the soft ones. I couldn't really taste them but it was kind of strange looking if you cut into them.
I think if you're one of those people who eat fruit turnovers for the filling, you'd enjoy these. But if you're like me and only eat them for the crust, stay far away from this recipe.
Apple-Cranberry Turnovers
from The Food You Crave
4 Granny Smith apples (about 1 1/2 pounds), peeled, cored, and cut into 1/4 inch thick slices
1/3 cup unsweetened dried cranberries
1/3 cup firmly packed brown sugar
1/2 teaspoon ground cinnamon
pinch of ground nutmeg
1 teaspoon cornstarch dissolved in 1 tablespoon cold water
6 sheets frozen phyllo dough, thawed
3 tablespoons canola oil
4 ladyfinger cookies, crushed
cooking spray
Preheat oven to 350.
In a large nonstick skillet, combine the apples, cranberries, brown sugar, cinnamon, and nutmeg and cook over medium heat, stirring occasionally, until the fruit is tender, about 10 minutes. Stir in the cornstarch slurry and cook until the juices in the skillet thicken, another 2 to 3 minutes. Set aside to cool.
Lay a sheet of phyllo on a large cutting board and brush with the oil. Top with a second sheet and brush with the oil. Sprinkle half of the crushed cookies on top. Add another sheet of phyllo and brush with the oil. Cut the layered phyllo into 4 long strips. Put a small mound of the apple mixture about an inch from the bottom of one strip and fold the phyllo over the mixture into a triangle-shaped pocket. Continue to fold the strip up in the way to maintain the triangle shape so a turnover is formed. Repeat with the other three strips. Repeat the whole process again with the remaining three sheets of phyllo so that you wind up with 8 turnovers. Be sure to reserve a little oil to brush the top of each turnover.
Coat a baking sheet with cooking spray, place the turnovers on the sheet, brush the tops with the remaining oil, and bake until nicely browned, 20 to 25 minutes. Serve warm.
Serving Size: 1 Turnover
Calories: 200
Total Fat: 6.5 G
Protein: 2 G
Carb: 35 G
Fiber: 2 G
Chol.: 20 MG
Sodium: 82 MG