I'm still around. I promise. Just got a lot going on around here.
I haven't been cooking many new things lately, mainly Spencer's favorites. I'm currently attempting to beat a really nasty eating disorder that I've had for the past 10 years so I've been subsisting on veggie burgers and apples. Hopefully soon I'll figure out the whole eating thing and get back into a cooking routine.
My face also had a run-in with the floor today:
Thanks to the aforementioned eating disorder I have crazy low blood pressure and even the tiniest adrenaline rush makes me pass out. I now have a black eye and the whole right side of my face is in pain.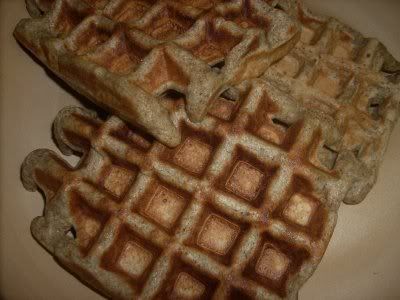 I did put my waffle maker to use this past week. I made
Banana-Cinnamon Waffles
for me and Landon to snack on. They were really good and I love that they included whole wheat flour, buckwheat flour, and ground flaxseeds.
I hope everyone has a great weekend and I'll definitely be back on Tuesday for
TWD
. Marshmallows this week!