This is the first year I'll be assisting in the Christmas cooking/baking and I'm super nervous about it. So I've decided to start testing out all the recipes that seem interesting to me. First up: Eggnog Pumpkin Pie.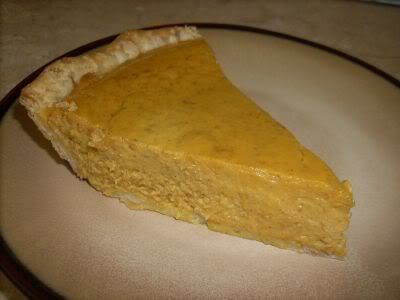 I pulled this recipe out of some magazine, maybe Taste of Home? It's amazing. I really wasn't expecting to taste the eggnog but it's definitely competing with the pumpkin! Now that I know it doesn't taste like poo, I'll be making it for our Christmas Eve dinner with Spencer's mom.
Eggnog Pumpkin Pie
1 can (15 ounces) solid-pack Pumpkin
1 1/4 cups eggnog
2/3 cup sugar
3 eggs
1 1/2 teaspoon pumpkin pie spice
1/4 teaspoon salt
1 unbaked pastry shell (I used the refrigerated Pillsbury kind)
In a large bowl, combine the pumpkin, eggnog, sugar, eggs, pumpkin pie spice, and salt. Pour into pastry shell.
Bake at 375 for 60 - 65 minutes or until a knife inserted into the center comes out clean.