My second challenge! woo!
This month Mary of
The Sour Dough
and Sara of
I Like to Cook
were given the difficult task of choosing the recipe that would be this month's challenge. They chose Julia Child's French Bread.
I cannot even tell you how terrified I was when I printed the recipe and my printer wouldn't stop spitting out pages! I ended up with 14 pages of french bread instructions! For a brief second I considered bowing out of this one but I couldn't do it. I wanted to prove to myself that I could
try
a difficult recipe even if I failed.
And boy did I fail.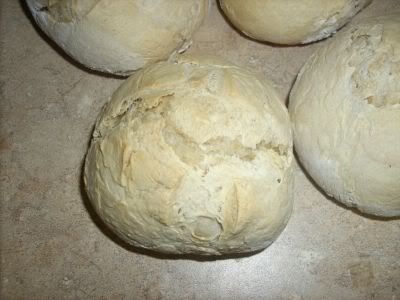 That was attempt number one. *sigh* They were hard as rocks. The inside was actually tasty but you had to crack open the concrete-like shell to get to it. I realized after they were done that I never moved the oven rack to the top third of the oven and I guess since they were so far away from the heat they didn't want to brown, so I just left them in. For way too long apparently.
The next day I woke up early, handed my motherly duties over to Spencer, and got started on attempt #2.
They aren't pretty, but they were edible!
If you're wondering why I only have two small loaves, well, it was about midnight when I was getting them ready to go in the oven and one piece of dough just really pissed me off. Yeah, that piece never made it to it's final rise.
My dough didn't rise well either time. It rose, but not to the great size that was talked about in the recipe. I'm still not sure what I did wrong either.
Overall the (edible) bread was really good but I don't think I'll attempt it again. It was a lot of fun but I don't think I have the patience to go through it ever again. I did realize that I do enjoy making bread and since then I've made some white bread and a couple loaves of (simpler) french bread.
I am looking forward to next month's challenge though. I bet it's gonna be a good one!
For anyone who wants the recipe, go check out
Mary's
blog.