I love TGIFridays fish tacos.
Love them.
But, you know, they don't really fit into my new healthy lifestye since they're covered in an amazing nacho crust and fried.
And well, I'll admit to another reason I won't be having their fish tacos anytime soon. My friend Johanna and I were (not so) politely asked not to return to TGIFridays. Sigh. To make a long story short, a hostess there dated my husband and Johanna's fiance
forever
ago and she refused to give us a high chair last time all of us went together. I should've let it go, been the bigger person. But I couldn't. So yeah...
Okay, last night I wanted fish tacos. Healthy fish tacos. And where did I turn? Everybody say it together.
COOKING LIGHT!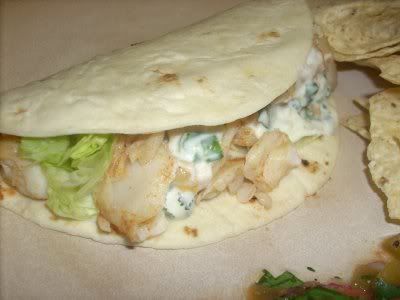 It's basically just fish (they called for red snapper, but I used grouper) covered in spices, baked, and thrown into a tortilla with cabbage (err... lettuce in my case) and a cilantro-lime crema. But it was so good! My only complaint is that the lime in the crema was a little too strong for me. Other than that, perfection.
Fish Tacos with Lime-Cilantro Crema
from Cooking Light
Crema:
1/4 cup thinly sliced green onions
1/4 cup chopped fresh cilantro
3 tablespoons fat-free mayonnaise
3 tablespoons reduced-fat sour cream
1 teaspoon grated lime rind
1 1/2 teaspoons fresh lime juice
1/4 teaspoon salt
1 garlic clove, minced
Tacos:
1 teaspoon ground cumin
1 teaspoon ground coriander
1/2 teaspoon smoked paprika
1/4 teaspoon ground red pepper
1/8 teaspoon salt
1/8 teaspoon garlic powder
1 1/2 pounds red snapper fillets
Cooking spray
8 (6-inch) corn tortillas
2 cups shredded cabbage
Preheat oven to 425°.
To prepare crema, combine the first 8 ingredients in a small bowl; set aside.
To prepare tacos, combine cumin and next 5 ingredients (through garlic powder) in a small bowl; sprinkle spice mixture evenly over both sides of fish. Place fish on a baking sheet coated with cooking spray. Bake at 425° for 9 minutes or until fish flakes easily when tested with a fork or until desired degree of doneness. Place fish in a bowl; break into pieces with a fork. Heat tortillas according to package directions. Divide fish evenly among tortillas; top each with 1/4 cup cabbage and 1 tablespoon crema.