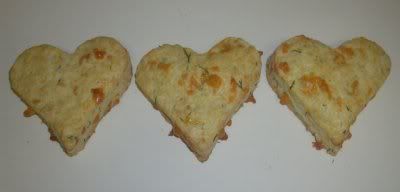 I have a horrible, horrible fear of fresh produce. I'm fine on the day I bring it home and even the next day, but after that I won't even touch it to put it in the garbage. But after my
Greek-inspired meal
the other night I had a mountain of dill that I didn't want to waste.
I remembered that episode of
Barefoot Contessa
where Ina admits to being a liar. According to her she only had one type of scone in her bakery (a fruity one, I believe) but when I potential buyer inquired about other types of scones she lied to the poor man (err.. woman?) and told him/her about her cheddar dill scones. Luckily Ina's amazing and came up with a cheddar dill scone for this person.
So off I went. With my Target after Valentine's Day clearance cookie cutters. They're cute though, right?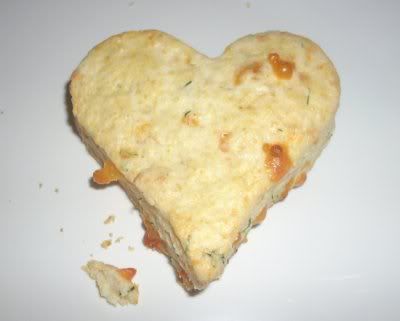 They were everything I hoped for and more. The buttery taste was a bit overwhelming to me at first but after a couple (or ten) scones I got used to it and kind of love it now. These would be a great addition to any brunch and I'm really looking forward to making them again soon.
Cheddar Dill Scones
source: Food Network
4 cups plus 1 tablespoon all-purpose flour, divided
2 tablespoons baking powder
2 teaspoons salt
3/4 pound cold unsalted butter, diced
4 extra-large eggs, beaten lightly
1 cup cold heavy cream
1/2 pound extra-sharp yellow Cheddar, small-diced
1 cup minced fresh dill
1 egg beaten with 1 tablespoon water or milk, for egg wash
Preheat the oven to 400 degrees F.
Combine 4 cups of flour, the baking powder, and salt in the bowl of an electric mixer fitted with a paddle attachment. Add the butter and mix on low speed until the butter is in pea-sized pieces. Mix the eggs and heavy cream and quickly add them to the flour-and-butter mixture. Combine until just blended. Toss together the Cheddar, dill, and 1 tablespoon of flour and add them to the dough. Mix until they are almost incorporated.
Dump the dough onto a well-floured surface and knead it for 1 minute, until the Cheddar and dill are well distributed. Roll the dough 3/4-inch thick. Cut into 4-inch squares and then in half diagonally to make triangles. Brush the tops with egg wash. Bake on a baking sheet lined with parchment paper for 20 to 25 minutes, until the outside is crusty and the inside is fully baked.