I bought a jar of green salsa a week or so ago just because it was there. See, down here in southern Alabama we don't get "weird" food items very often so I take them whenever I can get them. I was dying to use the green salsa since I'd never had it before but I didn't want to just do boring tacos or anything like that.
Yesterday as I was going through my blog reader I found the perfect recipe over on
Other People's Food
. It was for a chicken, mushroom, and goat cheese burrito. Mmm. It's originally a Martha recipe which, of course, means it's amazing.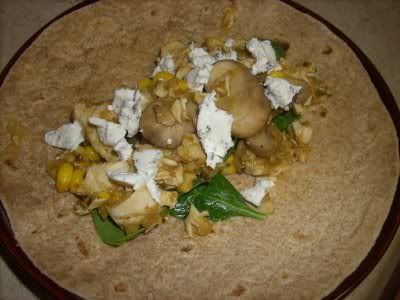 They were really good. And so filling! After half of one I was done. Spencer managed to eat four though.
Chicken, mushroom, and goat cheese burrito
from: Everyday Food
2 tablespoons olive oil
1 medium onion, chopped
1 jalapeno chile (ribs and seeds removed for less heat), minced
Coarse salt and ground pepper
10 ounces white button mushrooms, trimmed, thinly sliced
1 rotisserie chicken (about 2 1/2 pounds), skin removed and meat shredded (about 4 cups)
1 package (10 ounces) frozen corn kernels
1 cup prepared green salsa, plus more for serving
6 burrito-size (10-inch) flour tortillas
1 bunch flat-leaf spinach, thick stems removed (3 cups)
1 log (5 ounces) soft goat cheese, crumbled
In a large skillet with a lid, heat oil over medium. Add onion and jalapeno; season with salt and pepper. Cook, stirring occasionally, until softened, 3 to 5 minutes.
Add mushrooms; cover, and cook until they begin to release their liquid, 3 to 5 minutes. Uncover; cook, stirring occasionally, until mushrooms begin to brown and skillet is dry, about 5 minutes more.
Add chicken, corn, and salsa. Cook, stirring, until heated through and mixture is saucy, 4 to 5 minutes.
Meanwhile, heat tortillas according to package instructions. In center of each tortilla, layer spinach, chicken mixture, and goat cheese.
Wrap burritos one at a time: Fold side of tortilla closest to you over filling. Fold right and left sides toward center, and roll up. Halve if desired; serve with additional salsa.