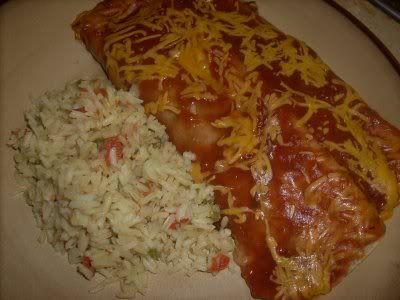 These are one of Spencer's favorites and it just occurred to me that I haven't posted about them.
We love Mexican food but it seems that we're always disappointed when we go out to a Mexican restaurant. Once I got my
rice
recipe perfected I started a search for the perfect enchilada recipe. This one is so good. It's not like the ones I normally find in Mexican restaurants but I prefer it. It's saucy and cheesy and you can add jalapenos or other peppers to bump up the spice.
Chicken Enchilads
adapted from All Recipes
2 cups cooked and shredded chicken
1/2 onion, diced
1/2 pint sour cream
1 cup shredded Cheddar cheese
1 tablespoon dried parsley
1/2 teaspoon dried oregano
1/2 teaspoon ground black pepper
1/2 teaspoon salt
1 (15 ounce) can tomato sauce
1 tablespoon chili powder
1 clove garlic, minced
8 (10 inch) whole wheat tortillas
1 (12 ounce) jar taco or enchilada sauce
3/4 cup shredded Cheddar cheese
Preheat oven to 350 degrees F.
Over medium heat saute the onion. Add sour cream, cheddar cheese, parsley, oregano and ground black pepper. Heat until cheese melts. Stir in chicken, salt, tomato sauce, chili powder, and garlic.
Roll even amounts of the mixture in the tortillas. Arrange in a 9x13 inch baking dish. Cover with taco sauce and 3/4 cup Cheddar cheese. Bake uncovered in the preheated oven 20 minutes. Cool 10 minutes before serving.