I got a waffle maker!
Finally!
I've wanted one for awhile but couldn't justify buying one since I wasn't sure how often I'd use it. But then Coke added it to their list of Coke Point rewards and I jumped on it. So yay! A waffle maker!
I've had this recipe in my favorites for quite some time now. It's by the lovely
Andrea
back when she'd post over at
Breakfast Blogger
. I finally got a chance to try them out.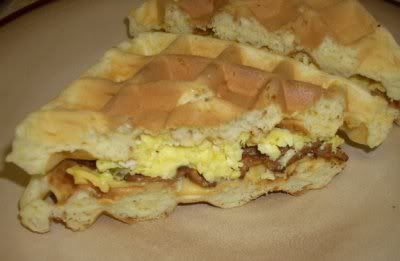 The waffles were delicious! I've only had sweet waffles before this so I was shocked at how much I liked these. Spencer gobbled two down as soon as he walked through the door and then told me he wanted me to use the leftover waffles for breakfast tomorrow. For his sandwich I did bacon, scrambled eggs, and a slice of cheese. I tried to make the egg in the waffle iron like
Andrea
did but it just didn't work out for me.
My sandwich wasn't quite as exciting.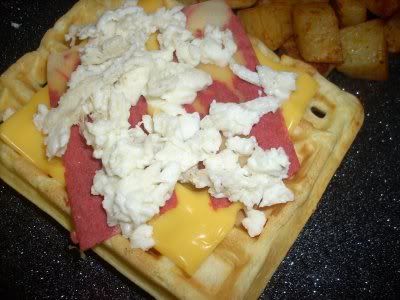 Open-faced with Morningstar "bacon" and a scrambled egg white. Still delicious though!
I look forward to making these again very soon (...tomorrow morning apparently) and I see this becoming one of those meals that Spencer requests a lot.
Cheddar Waffles
from Never Bashful with Butter and Breakfast Blogger
1 cup milk
4 eggs
1/2 cup melted butter
(I used margarine.)
2 cups flour
1 Tablespoon baking powder
1 teaspoon salt
1 cup shredded cheddar (any cheese will work, depending on your taste)
Whisk together the liquid ingredients. Add the salt and baking powder to the flour, and then stir the flour mixture into the liquid mixture. Lastly, add the cheese a quarter cup at a time, stirring lightly between each addition. Cook according to your waffle iron's directions.