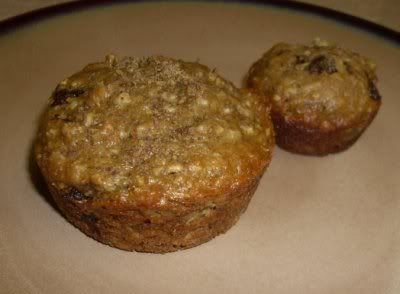 Mommy size and Landon size muffins.
I've been making a real effort to eat breakfast lately. It's really hard for me because I'm used to drinking 3 or 4 cups of coffee in the morning and then not eating until late afternoon. But I'm trying.
I tried oatmeal for a few days but the Kashi vanilla oatmeal that I loved during college just doesn't do it for me anymore. I don't like milk so cold cereal is out. Pop-Tarts, granola bars, anything like that is just too sugary first thing in the morning. So I went on a search for a muffin.
I wanted something with dried fruit, whole wheat flour, and flax seeds. And you know what?
Cooking Light
once again came to my rescue.
These muffins are pretty amazing. I'd never had a date before these and I think I actually like them! Weird. The original recipe calls for walnuts but I didn't want the extra fat so I left them out. I must warn you though: They're addictive. I've been eating them for lunch and my night time snack lately.
The recipe made a ton so I stuck some in the freezer. The recipe says it makes 18 but I ended up with 12 normal size muffins and 18 mini muffins. I guarantee they'll get eaten eventually though.
Morning Glory Muffins
adapted from Cooking Light
Cooking spray
1 cup whole wheat flour (about 4 3/4 ounces)
1/2 cup all-purpose flour (about 2 1/4 ounces)
1 cup regular oats
3/4 cup packed brown sugar
1 tablespoon wheat bran
2 teaspoons baking soda
1/4 teaspoon salt
1 cup plain fat-free yogurt
1 cup mashed ripe banana (about 2)
1 large egg
1 cup chopped pitted dates
1/2 cup chopped dried pineapple
3 tablespoons ground flaxseed (about 2 tablespoons whole)
Preheat oven to 350°.
Place 18 muffin cups liners in muffin cups; coat liners with cooking spray.
Lightly spoon flours into dry measuring cups, and level with a knife. Combine flours and next 5 ingredients (through salt) in a large bowl; stir with a whisk. Make a well in center of mixture. Combine yogurt, banana, and egg; add to flour mixture, stirring just until moist. Fold in dates, walnuts, and pineapple. Spoon batter into prepared muffin cups. Sprinkle evenly with flaxseed. Bake at 350° for 20 minutes or until muffins spring back when touched lightly in center. Remove muffins from pans immediately; cool on a wire rack.