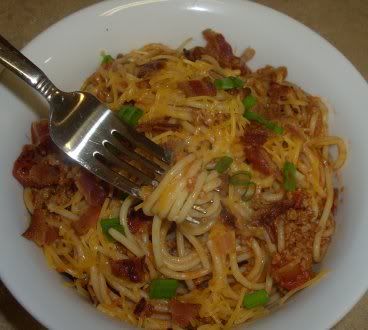 I've been searching for canned fire-roasted tomatoes for a couple months now but, as with everything else, Alabama was slow to get them. I finally found some last week, bought a couple cans, and realized I had no idea what to do with them. I searched AllRecipes, Epicurious, Cooking Light and then I finally turned to Food Network because I knew Rachael Ray has about 476 recipes that call for fire-roasted tomatoes.
It's no secret that I'm not Rachael's biggest fan but this one had good reviews. It has bacon and cheese on top so I knew Spencer would like it. And I even had all the ingredients on hand.
We really enjoyed this one. . Spencer ate two huge bowls of it even after turning his nose up at the mention of Rachael's name. It made a ton of spaghetti so Spencer will be eating it tomorrow night and he's just fine with that.
Cowboy Spaghetti
adapted from Food Network
1 pound spaghetti, cooked to al dente
1 tablespoon olive oil
1 pound ground turkey
1/2 cup onion, chopped
3 cloves garlic, minced
salt and pepper
2 teaspoons hot sauce
1 tablespoon Worcestershire sauce
1/2 cup beer
1 (14-ounce) can, chopped or crushed fire roasted tomatoes
2 cups tomato sauce
Optional toppings: cooked crumbled bacon, cheddar cheese, green onions
Cook turkey and onion in olive oil until turkey is no longer pink and onion is translucent. Add garlic and cook another minute. Season mixture with salt, pepper, hot sauce, and Worcestershire sauce. Add 1/2 cup beer and deglaze pan. Cook 5 minutes before adding tomatoes and tomato sauce.
Add cooked spaghetti to sauce and toss together. Garnish with optional toppings.