I've been so uninspired lately. I've just been in a rut. A big, nasty, can't-come-up-with-anything-to-cook rut. I can't even tell you the last time I cooked anything new.
But last night, long after I had decided to just stick with Spencer's favorites this week, I was checking my blog reader and saw
this
post over at Culinary Infatuation. I wanted to make them
immediately
.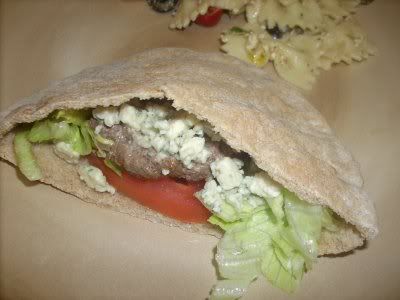 They were so good. Spencer bumped something off his "Top 10 Meals" list in order to make room for these. Yes, he keeps a running list of his favorite meals. I can't keep track of them but at any given moment he can name each one.
I didn't do the ground up pita shells though because my main man has pinkeye at the moment and spent most of the day in my arms. I'm sure it would make these burgers even better. I did stuff them with blue cheese though. I would've preferred feta but I ended up using all my feta for the side dish and I always have a ton of blue cheese in the fridge. Yum. And the tzatziki... amazing. And this is coming from someone who hates cucumbers.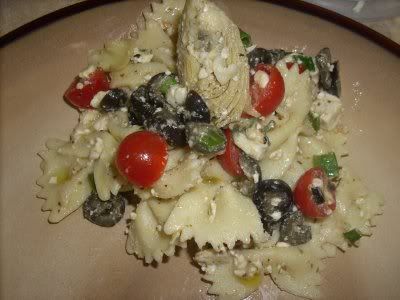 I wanted a simple side to go along with the burgers and somehow decided that pasta salad would be perfect. I browsed a few recipes and finally came up with this. It turned out really good. Spencer didn't even put up a fight about the artichokes.
"Greek" Pasta Salad
1/2 cup olive oil
1/4 cup red wine vinegar
3/4 teaspoon garlic powder
3/4 teaspoon dried oregano
3/4 teaspoon pepper
3/4 teaspoon sugar
3 cups cooked pasta
1 jar drained artichoke hearts, quartered
1/2 pint grape tomatoes, halved
1 cup crumbled feta
3/4 cup sliced black olives
1/2 cup sliced green onions
Whisk together olive oil, red wine vinegar, garlic powder, dried oregano, pepper, and sugar. Add pasta, artichoke hearts, tomatoes, feta, black olives, and green onions. Gently toss to combine. Refrigerate for atleast an hour before servings.