I was pretty much stumped when it came to finding a side to go with our
waffle sandwiches
. I guess it really didn't need a side since it had the eggs and bacon already on it but I don't like serving just one thing. Eventually I thought about hash browns. Duh Amanda. Isn't that the standard breakfast side dish?! Geez.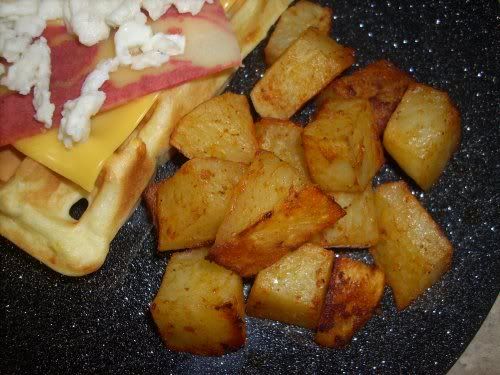 These were super simple since all I had to do was dice the potatoes, season them, and throw them in the oven. By the time I was done making all the waffles they were coming out of the oven. I also halved the recipe and it was the perfect amount for me and the hungry husband.
I'll definitely be making these again but next time I'm making them much spicier. You really couldn't taste the spice at first but after 3 or 4 pieces a little hint of spiciness came through.
Spicy Hash Browns
from Cooking Light
2 tablespoons olive oil
1 teaspoon paprika
3/4 teaspoon chili powder
1/2 teaspoon salt
1/4 teaspoon ground red pepper
1/8 teaspoon black pepper
6 1/2 cups diced baking potato (about 2 1/2 pounds)
Cooking spray
Preheat oven to 400°.
Combine first 6 ingredients in a large bowl; stir well. Add potatoes; stir well to coat. Place potatoes in a single layer on a cookie sheet coated with cooking spray. Bake at 400° for 30 minutes or until browned.