I think I've talked about my hatred of the crock pot before. I just can't handle smelling something all day! It makes me sick. So I'd packed my crock pot away and decided not to use it unless I'm leaving for the day. But then I found
this
recipe for Ronaldo's Beef Carnitas. I listened to the reviews and made it in the crockpot and it smelled
so
good all day!
They were pretty awesome. If I ever make them again, I'll double (maybe triple) the spices and chiles. I used the four pound chuck roast (because WD had it on sale! woo!) that was recommended and it made a ton. We ate it for two nights and then DH had it as a snack for a few days after that. I even caught him putting it on white bread with ketchup.
But that's really not so strange once you consider he puts ketchup on his french toast...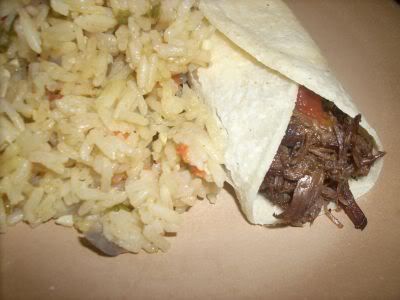 The rice is a-maz-ing. I'm not even kidding. The first time I tried this recipe, I tasted it as soon as it was done and didn't like it at all. But as I was packing up the leftovers, I decided to give it another taste. And let's just say the rest of the rice didn't quite make it into the tupperware.
Mexican Rice
1 cup rice
2 cups chicken broth
1/4 onion, finely chopped
1 jalapeno, seeded and chopped
1 tomato, seeded and chopped
1 cube chicken bouillon
1 clove garlic
1/2 teaspoon cumin
salt and pepper
Bring broth to boil in a medium sauce pan. Add rice, onion, jalapeno, and tomato. Season with bouillon cube, garlic, cumin, salt, and pepper. Bring to a boil and reduce to low. Let simmer for about 20 minutes.