Spencer and I ate this entire pizza. Within 15 minutes. I'm not even joking. It made me start thinking about what I'm going to have to do once Landon starts eating everything we do. Am I going to make two pizza? Or give up on my homemade pizzas and start ordering the biggest pizza I can find? Geez. Why do boys eat so much?
Anyway...
Growing up we didn't eat a lot of pizza but when we did we'd get the BBQ chicken pizza from Papa John's with the pineapple. Mmm. So good, but I don't know if they have it anymore. I decided to make something similar tonight, minus the pineapple because I didn't know if Spencer would pitch a fit about it.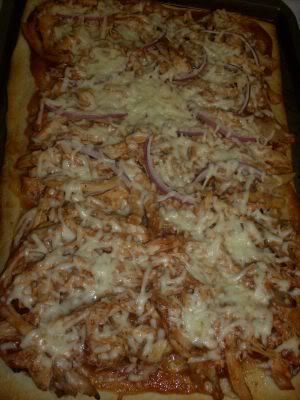 BBQ Chicken Pizza
refrigerated pizza crust
2 cups cooked and shredded chicken
1 cup BBQ sauce
1 cup mozzarella
thinly sliced red onions (I only put it on Spencer's part)
Prebake the pizza crust according to package instructions.
Spread a light layer of BBQ sauce over crust. Mix the rest of the sauce with the chicken. Spread over crust. Add onions. Sprinkle mozzarella over top. Bake 8 - 10 more minutes until crust in browned and cheese is melted.