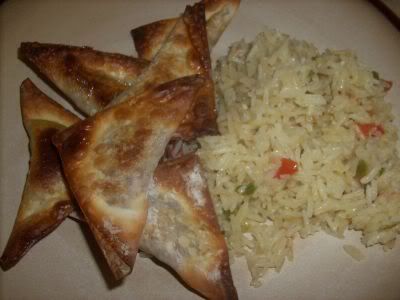 Have I ever mentioned my love of Weight Watchers magazine? I've been buying it since I was 18 because I love the success stories and the recipes usually sound so good. I tend to clip out their recipes and then worry that Spencer won't like them since they're "diet" food but with this one I knew he'd enjoy it.
Mine got a little burnt... I left them in much longer than the recipe says because the tops weren't getting golden so that's the bottoms you see in the picture. They were still awesome though.
I served it with my beloved
mexican rice
.
Empanadas
from Weight Watchers magazine
Preheat oven to 400. Brown 1/2 pound ground turkey and 1/2 onion, chopped, in a nonstick skillet. Add 1 tablespoon tomato paste, 2 teaspoons chili powder, and 1/2 teaspoon salt; cook 2 minutes. Cool. Spray a baking sheet with nonstick spray. Brush edges of 30 wonton wrappers with egg white. Spoon 1 tablespoon filling into the center of each; fold in half and press to seal. Place empanadas on sheet. Bake 8 minutes.