I tried a new mac & cheese recipe tonight. Spencer loves the
one
I make but I'm kinda over it.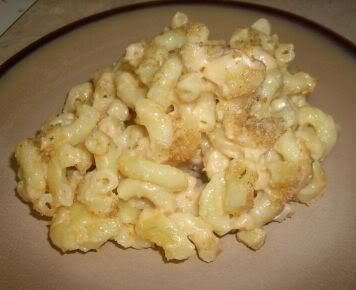 I am not a huge fan of this one. It tastes like the frozen Stouffer's ones I used to buy when Spencer would be out of town. I like those and everything, but it's not what I was going for. I also didn't like the bread crumb topping. It got soggy! I prefer the crushed up crackers that I put on my regular macaroni and cheese.
Spencer loved it, of course, because what doesn't he like? He did comment that the mustard flavor was a little strong but it didn't stop him from eating an entire plate full.
Macaroni and Cheese
16 ounces macaroni, cooked and drained
1/4 cup butter
3 tablespoons flour
2 cups milk
4 ounces cream cheese
salt & pepper to taste
2 teaspoons dijon mustard
2 cups shredded cheddar cheese
1 cup seasoned bread crumbs (
I used probably 1/2 cup, maybe less.
)
2 tablespoons butter
Preheat oven to 400.
Melt butter in a large saucepan. Whisk in flour and cook one minute. Add milk, cream cheese, salt, pepper, and dijon mustard. Cook until slightly thickened. Add cheese and stir until melted. Stir in macaroni.
Pour into a 2 quart casserole dish. Spread bread crumbs over top and dot with butter. Bake for 20 minutes or until bubbly.