It's Mardi Gras time again!
And I actually get to participate this year! Last year I was a week away from giving birth so I decided it probably wasn't the best idea to drag my pregnant ass downtown for the parades. Especially since I was hoping and wishing for a Mardi Gras baby. But this year... oh this year...
For anyone who doesn't know, Mardi Gras was started here. Yes, right here in Mobile, Alabama. According to my free copy of
Zalea
magazine, in 1866 a man named Joseph Cain dressed himself in Chickasaw "Indian" (in honor of them never being defeated in the just ended war) clothing on Fat Tuesday and decided to call himself Chief Slacabamorinico. He decorated a wagon pulled by a mule and he and his friends went through the streets celebrating in front of the remaining union soldiers.
Now, 142 years later, we honor Joe Cain on the Sunday before Mardi Gras which is, of course, known as Joe Cain day. And throughout the year, you can't go by Joe Cain's grave without seeing beads and black roses surrounding it.
Anyway...
To kick off Mardi Gras, the best friend and I decided to make moonpie bread pudding. Megan saw our local weatherman make it a few days ago and immediately asked if we could attempt it. The recipe was crazy big and I ended up using three big dishes to hold it all. Now I have no idea what to do with all this bread pudding!
Ignore my dirty dish. I learned today that bread pudding isn't fun to clean.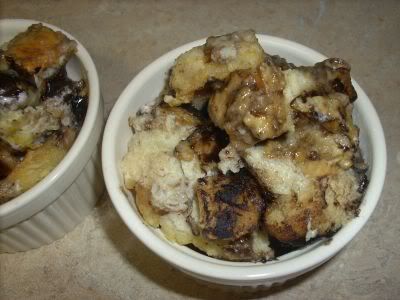 Moonpie Bread Pudding
from the local news website
10 Double Stack Moon Pies, or 15 Regular Moon Pies (any flavor), diced
1 loaf french bread, small diced
15 Eggs
32oz. Whole Milk
1/2 c. sugar
1/2 tsp cinnamon
1/2 tsp ground clove
1/2 tsp vanilla extract
1/2 tsp baking powder
1/2 stick butter
In one bowl, combine eggs, milk and seasonings. In a separate bowl, combine bread and moon pies. Pour liquid ingredients over bread and gently fold to combine. Butter baking dishes and divide mixture evenly between the two. Refridgerate for an hour and a half. Cube butter and distribute evenly over top of each dish. Bake in a water bath at 350 degrees uncovered for 45 minutes, or until toothpick stuck in the center comes out clean. Serve with a traditional bread pudding sauce (use your leftover Mardi Gras whiskey!).
I'd like the world to know that banana moonpies still rock my world.