I guess this week was
Pioneer Woman
week for me because today's dinner was recipe number 3 from her.
My crappy picture does not do
The Marlboro Man Sandwich
justice. Spencer was practically pulled the plate away as I was trying to take a picture. So why didn't I just take a picture of my sandwich? Because I chose to pile the steak and onion on a place and eat it with my fingers. I did. And it was amazing.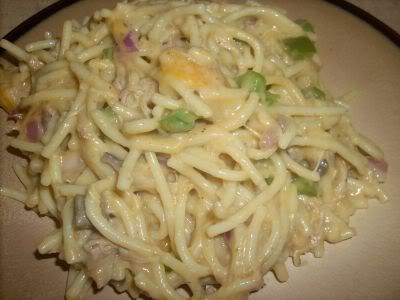 This one is her
Chicken Spaghetti
. As soon as Spencer took his first bite, he told me he would like to eat this atleast once a month. I'm not a casserole person but I think I, too, could eat this once a month.
My only beef with the casserole was the "veggies". I can't stand the texture of peppers or onions so it was too much for me. I used only half an onion and half a bell pepper but it still made my stomach turn when I'd crunch into one. So next time I'll either leave them out completely or saute them a little before adding them.