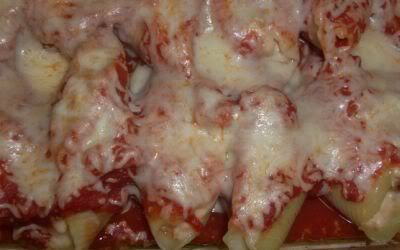 Yes, we like cheese. A lot.
I'm afraid this is going to become a regular dinner in our house. Spencer ate it for lunch and dinner the day I made it and then requested that I make it again soon.
The recipe came from
Two Novice Chefs
. I used ground turkey and made my own
marinara sauce
but left everything else the same.
I think this is one of those dishes that just about anyone would like. I mean, the shells are like a bunch of tiny lasagnas. Or something.