Spencer turned 22 1/2 on December 29. It took him long enough. I mean, geez, I was 22 1/2 for ten whole days before he finally got there. In honor of his half birthday, my slow cooker was kind enough to make his alltime favorite meal: stroganoff.
I'd never ever heard of stroganoff before Spencer. I guess my family is full of freaks or something because we just didn't eat that kind of stuff. I'd tried to make it once before for him and it sucked. It was awful! But I had to give it another try for him.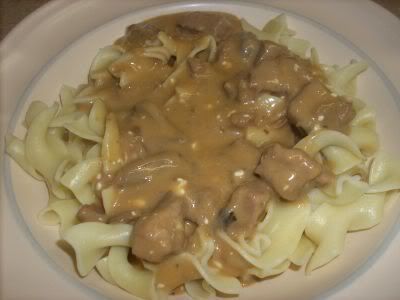 It turned out really good! I'm shocked that I liked it. And I'm even more shocked that Spencer said it was better than his mom's!
Beef Stroganoff
1 1/2 pounds chuck roast, in cubes
2 cans golden mushroom soup
1/2 cup onion, minced
1 tablespoon worchestershire
1/2 cup beef broth
1/2 pack Lipton onion soup mix
salt & pepper to taste
can mushroom pieces
1/2 teaspoon garlic powder
4 ounces cream cheese
1 tablespoon sour cream
Combine meat, soup, onion, worchestershire, beef broth, onion soup mix, and seasonings in slow cooker. Cook on low for 6 hours. About 30 minutes before serving, stir in cream cheese and sour cream. Serve over hot egg noodles.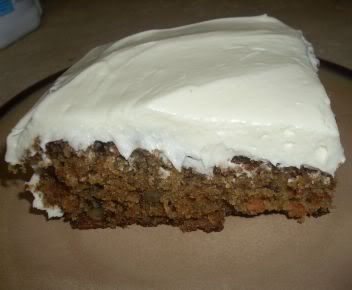 I also made him a carrot cake, which he claims is his favorite cake. I say he claims that it's his favorite because shortly after taking his first bite he asked me if there were real carrots in carrot cake. Yup. He did.
I used
this
recipe from AllRecipes and it turned out perfect! The only change I made was using walnuts instead of pecans in the actual cake, and I didn't use any nuts in the frosting.
I think Spencer enjoyed his half birthday, even though he thinks I'm a weirdo for even acknowledging it. I just look for excuses to celebrate I guess.