When my father finally decided to call me about my mom going in the hospital I, of course, went straight to the kitchen. I needed to bake. It needed to be sweet and possibly chocolate and really, really bad for me. But then I realized I only had one stick of butter and no vanilla! I turned to
Heirloom Baking with the Brass Sisters
and those two crazy ladies didn't disappoint.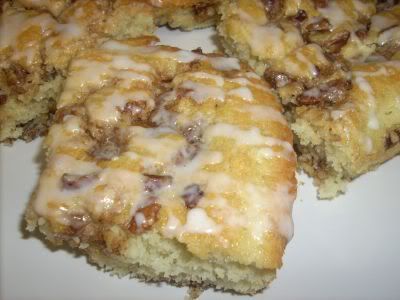 It's actually supposed to be covered in a streusel topping but the streusel recipe made very little and it didn't occur to me to just make more. Hmph. I had to substitute almond since I was out of vanilla but it turned out really good. Even Spencer liked it and he's not big on coffee cake.
I also decided the cake needed some icing so I just mixed up milk and powdered sugar until I got a good consistency and drizzled it on.
Mary Williams' Coffee Cake with Streusel
from Heirloom Baking with the Brass Sisters
For streusel:
1/2 cup brown sugar
2 tablespoons flour
1/2 teaspoon cinnamon
2 tablespoons cold butter
1/2 cup pecans, toasted and coarsely chopped
Place brown sugar, flour, and cinnamon in a bowl. Work in butter with your fingers until mixture resembles coarse sand. Add pecans and combine.
For cake:
1 1/2 cups flour
3 teaspoons baking powder
1/4 teaspoon salt
3/4 cup sugar
1/4 cup butter
1 egg, beater
1/2 cup milk
1 teaspoon vanilla
Preheat oven to 350. Line the bottom and sides of an 8 x 8 pan with foil, shiny side up. Coat with butter or vegetable spray.
Sift together flour, baking powder, and salt. Add sugar. Using a pastry blender or two knives, cut butter into dry ingredients. Add egg, milk, and vanilla and combine. Place half of batter in pan. Sprinkle half of streusel on top of batter. Add rest of batter to pan and top with remaining streusel.
Bake 35 to 40 minutes, or until tester inserted into cake comes out clean. Cool on rack completely before cutting into squares.