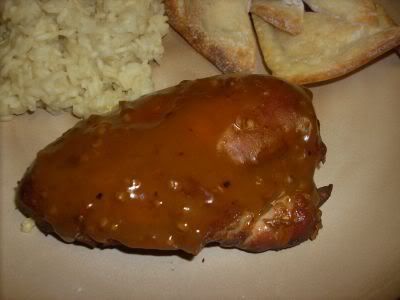 I get that my chicken looks disgusting. Believe me. Atleast you didn't have to smell it cooking all day. I always forget how much I hate the smell of sesame oil so I keep cooking with it and get sick each time.
But let me tell you... it was pretty good. And it was so tender. I thought it had overcooked since it was so dark but it was perfect. The chicken itself was good but I left the sauce off the tiny piece that I tried. I realized this morning that I was out of honey so that may have contributed to the weirdness of the sauce. I just kinda made a simple syrup and hoped for the best.
Orange Hoisin Chicken
From: Not Your Mother's Slow Cooker Cookbook
2 tablespoons Frozen orange juice concentrate -- thawed
1/4 cup Honey
2 tablespoons Soy Sauce
2 tablespoons Hoisin sauce
3 slices Ginger 1/4 inch thick
3 clove Garlic -- minced
1 tablespoons Sesame oil
6 Chicken breasts skinless, boneless -- DO NOT THAW
2 teaspoons Cornstarch
2 teaspoons Cold water
1 tablespoons Sesame Seeds -- Toasted
In a zippered top plastic bag, combine the orange juice concentrate, honey, soy sauce, hoisin sauce, ginger, garlic, and sesame oil. One at a time, put the chicken pieces in the bag, seal, and gently shake to coat with the sauce. Transfer the coated chicken to the slow cooker, then pour the remaining sauce over the chicken. Cover and cook on LOW until the chicken is tender and cooked through 5 to 6 hours. Transfer the chicken to a warm platter. Strain the sauce through a fine mesh strainer into a small saucepan. In a cup or small bowl, stir together the cornstarch and cold water. Bring the sauce to a boil over high heat, add the slurry, and cook, stirring a few times, until thickened, 1 to 2 minutes. Pour some of the sauce over the chicken and pass the rest on the side. If desired, sprinkle the sesame seeds over the top.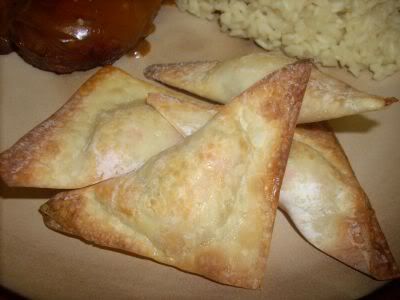 Crab rangoon... YUM!
The recipe came from fellow Nestie
Joelen
. These were far better than any I've had in a restaurant.
I baked mine instead of frying (because Spencer used all my oil on his
shrimp
). I just put them in a 400 degree oven for 6 minutes, flipped then, and back in for another 6 minutes.