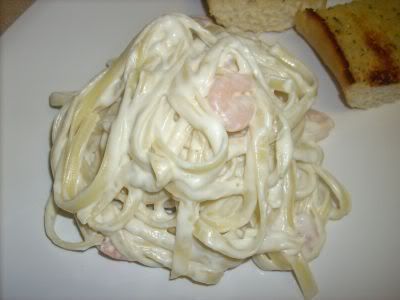 My mom got me a subscription to Taste of Home for Christmas so now I have access to all their online recipes. Yay! I've spent many nights browsing their collection instead of sleeping and that's how I decided on alfredo for last week.
I don't really like alfredo sauce. The only kind I've ever had was either jarred or frozen and both of those are a bit lacking to say the least. But for some reason I decided to make some alfredo sauce.
I didn't like it. At all. Spencer loved it though and polished it all off. I had some cooked shrimp in the freezer so I threw those in. It was such a quick meal. It took all of about 10 minutes for the whole thing to be done so it's kind of disappointing that I didn't like it.
Shrimp Alfredo
adapted from Taste of Home
8 to 12 ounces fettuccini
2 garlic cloves, minced
2 tablespoons olive oil
2 tablespoons all-purpose flour
1 tablespoon cornstarch
1/4 teaspoon salt
1/4 teaspoon pepper
1/4 teaspoon dried basil
1-1/2 cups milk
4 ounces cream cheese, cubed
1/2 cup grated Parmesan cheese
1/2 cup cooked shrimp
Cook pasta according to package directions. Meanwhile, in a large skillet, saute garlic in oil until lightly browned. Stir in the flour, cornstarch, salt, pepper and basil until blended. Gradually stir in milk. Bring to a boil; cook and stir for 2 minutes or until thickened.
Reduce heat; whisk in cream cheese and Parmesan cheese until smooth. Add shrimp; heat through. Drain pasta; add to sauce and toss to coat.