I've never had shepherd's pie. Never. And up until a week ago I couldn't even begin to tell you what it was. Weird, right? But mashed potatoes on top of meat (with some veggie hidden in the middle) sounded like Spencer's kind of meal.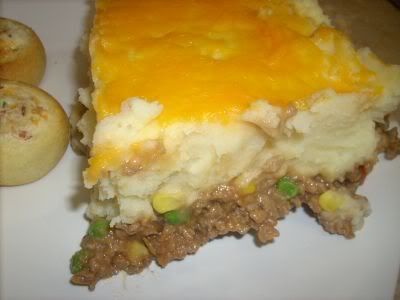 I obviously went for the biggest potatoes I could find...
We were both really shocked at how much we liked it. Normally will eat leftovers once and then I'll give the rest to the dog but there was nothing left of this one. And there was a ton of it!
Shepherd's Pie
adapted from: AllRecipes
4 large potatoes, peeled and cubed
1/4 cup butter
1/4 cup milk
1/2 cup shredded Cheddar cheese, divided
salt and pepper to taste
1 1/2 cups frozen mixed vegetables, defrosted
1 tablespoon vegetable oil
1/4 onion, chopped
1 pound ground turkey
2 tablespoons all-purpose flour
2 tablespoon ketchup
1 packet brown gravy mix
1 cup water
1/4 cup shredded Cheddar cheese
Bring a large pot of salted water to a boil. Add potatoes and cook until fork tender, about 15 minutes. Drain and mash. In a small saucepan melt butter; add milk and allow to warm. Pour butter and milk mixture slowly into potatoes until they reach the desired consistency. Add 1/4 cup shredded cheese. Season with salt and pepper to taste; set aside. Preheat oven to 375.
Heat oil in a large frying pan. Cook onion and turkey until onion is translucent and turkey is fully cooked through. Stir in flour and cook 1 minute. Add ketchup. In a separate bowl whisk together water and brown gravy mix; pour over turkey mixture. Bring to a boil, reduce heat and simmer for 5 minutes.
Spread the ground turkey in an even layer on the bottom of a 2 quart casserole dish. Layer veggies on top of turkey. Top with the mashed potato mixture and sprinkle with remaining shredded cheese.
Bake in the preheated oven for 20 minutes, or until golden brown.