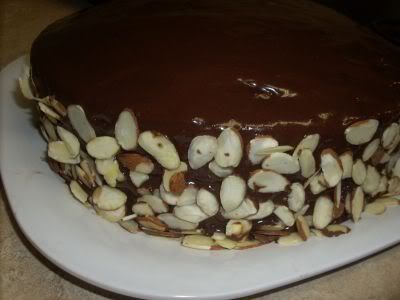 I don't know what possessed me to make this cake. I don't even like chocolate that much. But I got bored and started looking through
Heirloom Baking with the Brass Sisters
again and it called out to me. Plus I had some buttermilk that I needed to use up.
It's probably the best chocolate cake I've ever had. It was light and moist and not too chocolate-y (is that even a word?). The frosting tasted
just
like a mocha.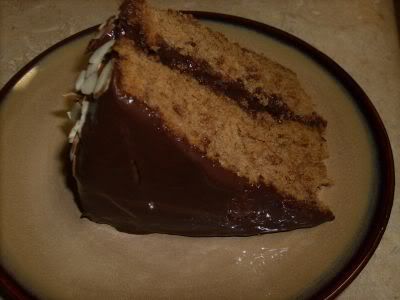 French Chocolate Cake with Mocha Frosting
Heirloom Baking with the Brass Sisters
2 oz. bitter chocolate
1/2 cup boiling water
2 1/2 cups flour
1 teaspoon baking soda
1 cup butter
2 cups brown sugar
2 eggs
1 1/2 teaspoon vanilla
1/2 cup buttermilk
1 1/2 cups heavy cream
2 tablespoons instant coffee or espresso powder
12 oz. bittersweet or semisweet chocolate, chopped
Preheat oven to 350. Butter and flour two 9-inch cake pans or three 7-inch cake pans.
To make the cake: Dissolve chocolate in boiling water and let cool.
Sift together flour and baking soda in a bowl.
Cream together butter and brown sugar. Add eggs, one at a time, and beat in. Add chocolate mixture to batter. Add vanilla to buttermilk and combine with batter. Add sifted dry ingredients and mix well.
Pour batter into cake pants. Bake 40 minutes (for 3 cake) or 50 minutes (for 2 cake), or until a tester inserted into middle comes out clean. Set on racks and allow to cool completely.
To make the mocha frosting: Heat heavy cream and coffee in a saucepan on medium heat, stirring until bubbles form around the edges. Remove from heat. Pour mixture oven chocolate, let sit 5 minutes, and stir to combine. Chill frosting in the refrigerator 30 minutes, stirring every 5 minutes until it is thick enough to spread. Assemble the cake layers, spreading frosting between the layers and on the top and sides. Store wrapped in wax paper in the refrigerator. Bring to room temperature half and hour before serving.