This is a favorite around here. I always complain about it when Spencer requests it but once it's made, I just want to stick my face in it. Seriously. It's so comforty and nice.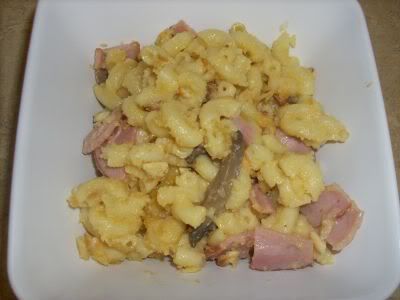 Spencer's Mac & Cheese
8 ounces elbow macaroni, cooked according to package directions
6 tablespoons butter, divided
1/2 cup flour
1/2 teaspoon salt
1/4 teaspoon pepper
2 cups milk
2 cups shredded cheddar
6 ounce package of canadian bacon, chopped
1 can (4 ounces) mushrooms stems and pieces, drained
crushed Ritz crackers (enough to cover)
In a large saucepan, melt 4 tablespoons butter. Stir in flour, salt, and pepper until smooth. Whisk in milk. Bring to a boil and cook until slightly thickened. Reduce heat and add cheese. Stir until melted. Stir in canadian bacon and mushrooms. Add drained macaroni to mixture.
Tranfer to a greased baking dish. Sprinkle with crackers and dot with remaining 2 tablespoons butter. Bake, uncovered, at 350 for 25 - 30 minutes, or until bubbly.