It's finally cold down here! I'm sure it won't last though so I'm taking advantage of it while I can. Today I decided to make a chowder. Yay chowder!
It kinda came about as an accident. See, every Tuesday my best friend Megan comes over and we watch movies, so I make something in my slowcooker every Tuesday. I had wanted to make a corn chowder in it today so I looked at a bunch of recipes on AllRecipes before decided on one, not realizing it wasn't a slow cooker recipe. So in the end I combined two recipes and then added some of my own to it.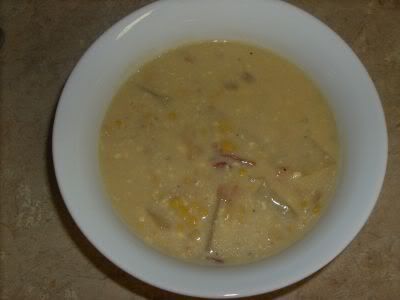 Cheesy Corn, Potato, and Bacon Chowder
1 onion, diced
2 potatos, peeled and diced
2 cans chicken broth
can cream corn, drained
2 cans whole kernel corn, undrained
country style gravy mix
2 cups milk
1 cup Mexican Velveeta
5 strips of bacon, baked and crumbled
Throw onion and potato into slow cooker. Add chicken broth and corn. Mix gravy into milk and add to slow cooker. Add Velveeta and bacon in last 30 minutes or so.