We had yet another football party last night. (And LSU won, thanks!) Besides the cleanup and the husband who doesn't like to get off the computer to help me, I don't really mind hosting them. But I'm running out of fun party food to make and I feel obligated to make
something
. Although I should start making them order a pizza or something. It would definitely cup down on the amount of time I spend doing dishes every night.
I got this first recipe from a lady on my parenting board. I'm very lucky that all the women on my birth board love cooking and we actually spend a lot of time talking about food. So we started a blog where we can share all our favorite recipes.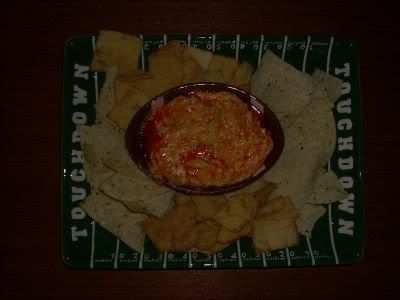 (Like my hideously cheesy football plate?! I bought it for the husband as a Christmas gift but I was so excited about it that I gave it to him early.)
Buffalo Chicken Dip
Two bonless, skinless chicken breasts. Cooked and shredded.
12 ounce Frank's Hot Sauce
Two 8 ounce blocks of cream cheese
16 ounce Ranch dressing
1 cup celery, chopped
1 cup montery jack cheese
In sauce, mix cream cheese, ranch, and celery until smooth. Add chicken and hot sauce. Bake at 375 for 45 minutes. Sprinkle cheese over top and pop back in oven until melted.
Is was
so
good. I really didn't expect to like it but I had some last night, I had some for breakfast, and I just had some as a late night snack. I left celery out because the husband and I both hate it. I also never got the cream cheese completely smooth. It looked more like cottage cheese in the end but it still tasted great.
I served it with tortilla chips and pita chips. I figured the pita chips would be good since it's a thick dip but no one ate them! So I now have the unfortunate task of eating two bags of pita chips. Dangit.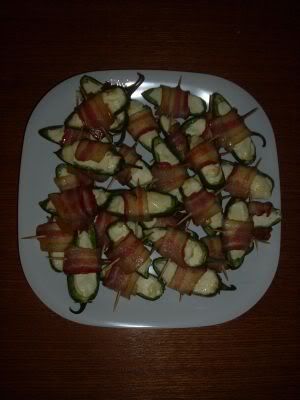 Bacon Wrapped Stuffed Jalapenos
Now this one.. it caused me great agony. I thought I'd be fine cutting 15 jalapenos. I didn't think they could possibly burn my hand. But the little devils did. The husband ended up stuffing them as I layed on the kitchen floor trying not to pass out. My hands were on fire. And they stayed that way most of the night.
These got great reviews from my friends. I had apparently forgotten that I hate the texture of peppers and all was okay until I took that first crunchy bite. I think it would've been good though, if it hadn't been a pepper. The dog seemed to agree with me as I found only a jalapeno shell in the middle of the hallway this morning. I don't even know how he got one but I'm glad he didn't eat the pepper. I can only imagine the cleanup...