This is my husband's alltime favorite meal. I think he'd eat it every week if I'd allow it, but I'm
so
sick of it. I went and got sushi from Fresh Market because I couldn't even stand the smell of it cooking. I mean, it was good the first 56 times I made it. I can't handle it anymore though.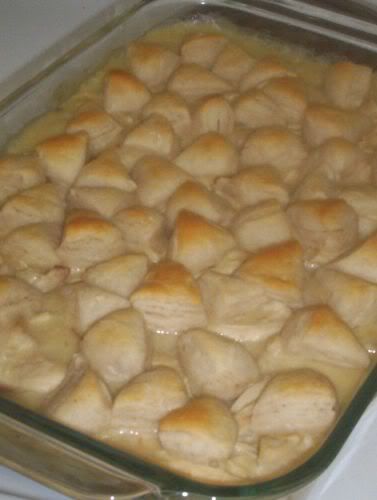 Chicken and Biscuits
1 whole chicken
1 packet Pioneer biscuit gravy mix
1/4 cup flour
1 can Cream of Chicken soup
1 can 10 or 12-pack refrigerated biscuits
Let chicken simmer in a 5 qt pot for about 2 hours. When it's cooked, take it out of the water and let it cool, but leave about 4 - 5 cups of the broth in the pot. Mix the biscuit gravy mix and then flour with about 1/4 cup of water (or a little more, as long as it doesn't get pasty) and then add that mixture to the broth. Add the cream of chicken soup and bring to a boil. If it's not thick enough to be a gravy, add another small mixture of flour and cold water to thicken it up. When it's thick enough, pull the chicken off the bones and add it in small pieces to the gravy. Put the mixture into a casserole dish. Cut each biscuit into 6 pieces each and place the pieces on top of the chicken and gravy mixture. Bake according to biscuit directions.
My aunt gave me this recipe and she says she usually freezes half of of the chicken and gravy mixture to use for another dinner, but it never seems like enough to me. Or maybe we just like to eat a lot. So if it seems like a lot to you, you can freeze half and use it another day.