I bought a couple 4 pound pork loins last time they were BOGOF at Winn Dixie and they've been hanging out in my freezer since then. Yesterday I finally decided to make pulled pork in the crockpot and much to my disappointment, I couldn't get the entire pork loin to fit in it. And it was still frozen solid even though I had taken it out of the freezer the night before. So I threw it in the oven just until I could cut it and half of it is back in the freezer (wasn't sure if I could do that or not, but I sure did it). But half that pork loin made us 8 sandwiches this weekend! And they were amazing. Definitely the best pulled pork I've ever had.
In an effort to get the husband to eat his veggies, I made a sorta-Caesar salad to go with the sandwiches. Unfortunately I didn't realize I was out of the good parmesan so we ended up using that cheap stuff that you put on spaghetti. Ehh. It was still good though. I made the croutons and we've decided that we will never buy boxed croutons again.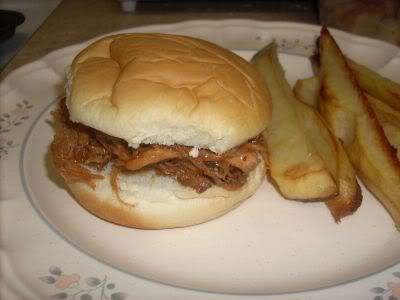 Slow Cooker Pulled Pork
Originally from AllRecipes.
1 (2 pound) pork tenderloin
1 (12 ounce) Root Beer
1 (18 ounce) BBQ sauce
Place pork in slow cooker and pour root beer over the meat. Cover and cook on low for 6 - 7 hours, or until pork easily pulls apart. Drain well. Stir in BBQ sauce.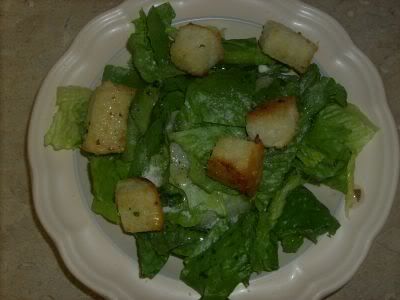 Garlic Croutons
6 tablespoons butter
1 clove garlic, minced
half pound of french bread, sliced about 3/4 inch thick
Preheat oven to 350.
Meat butter in saucepan. Add garlic and let cook about a minute. Toss bread in the butter. Spread onto a baking sheet and bake 15 minutes, or until crispy.
Both recipes are definitely keepers, and they're both super simple!