I bought lamb a few weeks ago (because it was on sale) and I've been itching to use it since then. I've had lamb before but only in Greek restaurants so I was a little intimidated by it.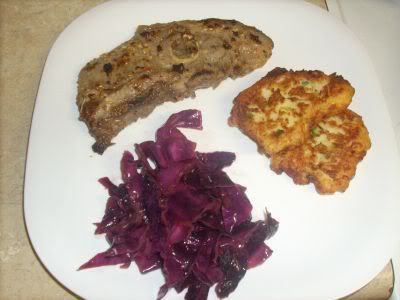 Lamb, Sweet & Sour Cabbage, and Potato & Turnip Pancakes.
I got the lamb marinade from
AllRecipes
. I marinated it overnight as the recipe says and just threw in on the stove on medium heat until it looked okay. It was delicious. Spencer and I decided it was one of the best things I've made. I'm tempted to try the marinade on other meats now. It was really
that
good.
The sides came from
Simple Recipes
(
here
and
here
).
I've recently discovered my love for cabbage (the texture of it always scared me away) so I was really looking forward to the Sweet & Sour Cabbage, but neither of us liked it. We ended up throwing most of it away. I can see why someone would like it, but it just wasn't for us.
The Potato & Turnip Pancakes were fabulous! I ate 7 or 8 of them! I'd never had a turnip so the taste was a little weird at first but I fell in love. I took her suggestion of dipping them in sour cream and.. WOW! Damn. I wish I had some now. This is a must try!