I have a love/hate relationship with Rachael Ray. I buy her magazine every month, I watch her talkshow every morning at 9 am, I'll even watch
30 Minute Meals
occassionally. But I hate her recipes. I don't want to put poblano peppers in my chocolate chips cookies, thanks. Okay, well maybe she hasn't done that (yet) but I can't handle all the spicy, pickled, and otherwise weird things that she makes. And yet, I continue to make her food.
I saw her making Ribollita con Verdue one afternoon as I was running out the door and was immediately in love with the idea of throwing half a loaf of stale bread into a soup as a thickener. Plus kale! And beans! Seriously.. it sounded like heaven. But it was a Rachael recipe so I should've known better.
I'll admit it was pretty tasty. Even the husband liked it. But my bread didn't all melt into the soup. So I had quite a few pieces of soggy bread floating around even after I took a wooden spoon and tried to squish all of them. But like I said, it was good. And I've actually been eating the leftovers for breakfast the past few days.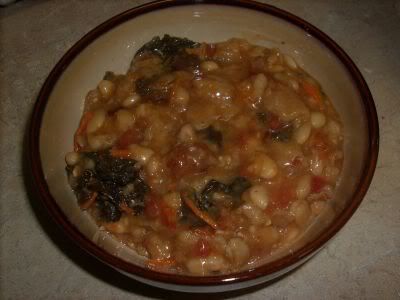 Ribollita con Verdue
(from the lovable, hugable Rachael Ray)
4 pieces of pancetta
3 tablespoons olive oil
4 cloves garlic, minced
onion, diced
2 carrots, chopped
zucchini, chopped
salt and pepper
1/2 cup wine (I used balsamic vinegar)
15 ounce can petite diced tomatoes
6 cups of beef broth
4 cups of stale french bread
2 cans of small white beans (or cannelini)
4 cups of kale, chopped
Saute pancetta in olive oil for about 4 minutes. Add garlic, onion, carrots, and zucchini. Season with salt and pepper. Let soften. Deglaze with wine. Stir in tomatoes and broth. Bring to a boil and then drop to a simmer. Add bread and beans. Pile kale into pot and simmer 5 to 10 minutes. Serve with a drizzle of olive oil, raw onions, and parmesan on top.