My husband wanted pigs in a blanket last night. I'm not really sure why. He just randomly decided he wanted pigs in a blanket while he watched the Colts game. I happy obliged.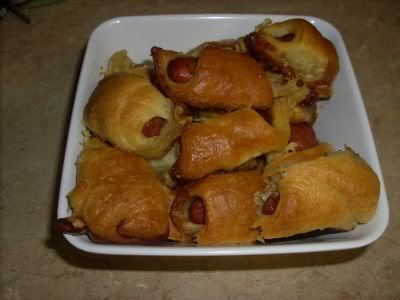 I found the recipe at
Amber's Delectable Delights
. I had a little trouble with them. My OCD dictated that each piece of dough needed to be the same size, but it just didn't work out for me. Once I got over that, they were great! The walnuts and honey gave it a weird baklava taste that Spencer (the husband.. I've decided he's worthy of a name) loved! He grabbed the leftovers out of the fridge as soon as he got home today and demolished them.
After he decided he wanted pigs in a blanket, he informed me that he'd also like another snack but left it up to me. So I chose
Chili con Queso
.
This stuff was awesome. I'm a bit of a sausage freak so, of course, I loved this. I even ate it for breakfast this morning since sausage is a breakfast food and all. I know this is gonna become a regular on our football nights but next time I'm gonna add another jalapeno.