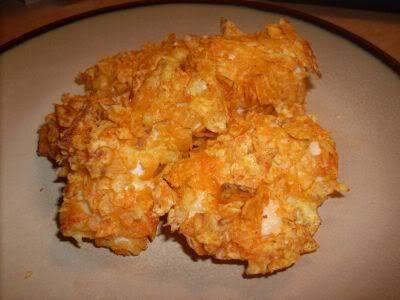 I've been seeing dorito chicken on a ton of blogs recently, so of course I had to try it. I love doritos. Spencer loves doritos. It was bound to be a hit.
I cut mine into tiny bites before I rolled them in Doritos just because I think it's cuter that way. They were good. The Doritos got soggy and didn't really taste like Doritos anymore. I won't make this again, but there weren't any leftovers so they had to be okay.
Dorito Chicken Bites
2 boneless skinless chicken breasts, cut into bitesized pieces
1 egg
splash of water
crushed doritos (I don't know how much I used... maybe 1/2 cup)
Whisk egg and water together. Dip each chicken piece in the egg and then roll in Doritos. Place in a prepared casserole dish. Bake for 15 - 20 minutes at 400.