Okay, can anyone explain why my husband has been stocking up on peanut butter M&Ms? I mean, we live in Alabama so I guess he could be saving them for the next hurricane? Or maybe not.. but I opened the cabinet the other day to find three huge bags. Three bags! I didn't even know he liked peanut butter M&Ms!
I'd been wanting to make chocolate chip cookies but we have no chocolate chips and I'm too lazy to lug the kid to the store, so I put on my thinking cap (yeah..) and decided to crush up the M&Ms and throw them into cookies! Yay me!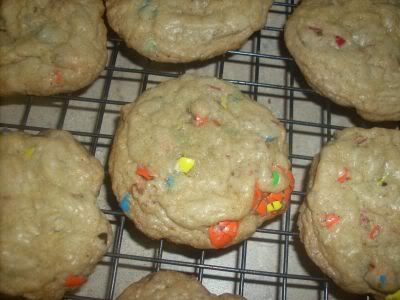 I used
this
recipe but substituted 2 cups of crushed M&Ms for the chips. And I figured the walnuts would just be weird so I left those out.
They were good on the first day. A little crunchy on the second. And rock hard on the third. It didn't stop me from eating them though.