My best friend, Megan and I watch a lot of Food Network. Either next to each other on my couch or each of us at our own houses sending "Omg! Did you see what Rachael/Giada/Sandra just did?!" texts. This past Saturday we were doing it the texting way while Paula's Party was on and we both got super excited when Paula mentioned deep frying some cranberry sauce. So we had to try it. Had to.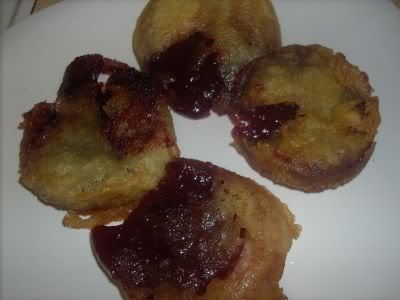 It was a big disaster, as you can see from the picture. The cranberry sauce was refusing to stay in the batter, even after being fried. They're pretty good. We both had one and decided that was plenty for us. Spencer came home and ate 4 of them! It was a fun recipe to try but I doubt I ever make it again.
Paula Deen's Deep Fried Cranberry Fritters
1 (13-ounce) can jelly style cranberry sauce, sliced into 1/2-inch thick rounds
Oil, for frying
2 cups all-purpose flour, divided
2 tablespoons sugar
Pinch salt
1 teaspoon baking powder
1 cup water
Lay the cranberry sauce rounds out in a single layer on a parchment paper-lined sheet pan and freeze for 4 hours or until solid.
Heat the oil in a deep-fryer or large Dutch oven to 375 degrees F.
In a large shallow bowl stir together 1 cup of the flour, with the sugar, salt and baking powder. Pour in the water and stir together until smooth. Let the batter rest for 15 minutes.
Dip the frozen cranberry sauce rounds in the batter and gently place in the oil. Fry until golden brown, about 3 minutes. Transfer to a paper towel lined plate to drain.
Serve and enjoy immediately.