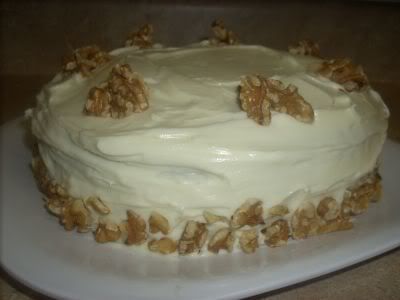 This cake was amazing. And my first real cakecake! Go me! It didn't last more than 24 hours in this apartment and Spencer's very proud that he ate half of it by himself.
I got the recipe from All You! magazine (Yeah.. I buy it.. what?). This is the first time that anything in that magazine has looked remotely appitizing so I, of course, had to run out and buy everything to make it right then.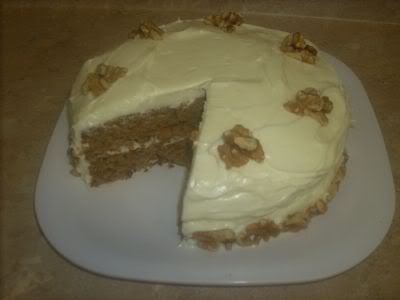 Apple Spice Cake with Cream Cheese Frosting
1 1/2 cups flour
1 1/2 teaspoon cinnamon
1 teaspoon nutmeg
1 teaspoon baking soda
1/4 teaspoon salt
3 large apple, peeled and grated
1 1/2 cups sugar
2 large eggs
1/2 cup vegetable oil
Preheat oven to 350. Grease and flour two 8-inch cake pans. Whisk together flour through salt. In another bowl, mix apples and sugar.
Stir dry ingredients into apple mixture. Mix in eggs and oil. Divide batter between pans; bake until toothpick inserted in center comes out clean, 25 to 30 minutes. Let cool for 10 minutes; then invert onto a rack to cool completely.
12 ounces cream cheese, room temperature
6 tablespoons butter
2 cups powdered sugar
1 1/2 teaspoon vanilla
1 cups walnuts, toasted and coarsely chopped
Beat cream cheese and butter until fluffy. Reduce speed and add powdered sugar and vanilla. Mix until combined.
Place a cake layer on a platter, spread top with 1 cup frosting. Top with second cake layer. Frost top and sides and decorate with walnuts.
Okay, so as soon as I had started mixing the dry ingredients, I remembered I was out of cinnamon. I ended up throwing some ground cloves in instead and no one could tell it was missing anything. I also used canola oil because that's what I had on hand. And I recommend grating your apples after all the dry ingredients are together because mine turned brown before I got everything in the bowl. Ick.
It was really good though. Seriously. Spencer's already told me that I'm making it to take to his mom's on Thanksgiving.