Once again Spencer has put a stop to my cooking. No more until we finish all the leftovers in the fridge. So what's a girl to do? Attempt to eat everything before husband comes home, of course!
After finishing all the taco salad last night and feeding the chicken and rice to the dog, I realized it was too big of a task to undertake. But I decided that baking was safe. I mean, you need dessert with leftovers too! So brownies were made.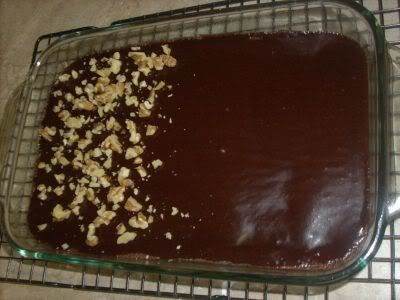 Half with walnuts, half without.
These are freakin' rich. I cut myself a rather large piece because I am a fat kid after all, but after one bite I handed the brownie to Spencer. I can't handle all that chocolate. Spencer loved them though. I doubt they make it past tomorrow night.
Amazingly Sinful Brownies
1/2 cup butter, melted
1 cup white sugar
2 eggs
1 teaspoon vanilla extract
1/3 cup unsweetened cocoa powder
1/2 cup all-purpose flour
1/4 teaspoon salt
1/4 teaspoon baking powder
3 tablespoons butter, melted
3 tablespoons unsweetened cocoa powder
1 tablespoon honey
1 teaspoon vanilla extract
1 tablespoon light corn syrup
1 tablespoon milk
1 cup confectioners' sugar
Preheat oven to 350.
Mix butter, sugar, eggs, and vanilla. In a seperate bowl, stir together flour, cocoa powder, salt, and baking powder. Combine the two bowls. Spread batter into a prepared pan.
Bake 20 to 25 minutes.
For glaze, combine all ingredients. Pour over warm brownies and allow to harden.