Our dog, Duke, loves Landon. I get that. I mean, Landon's a lovable guy so I understand why Duke loves Landon so much. But Duke really doesn't need to nap in bed with Landon.
A few weeks ago Duke was stampeding around the apartment while Landon was supposed to be sleeping. I heard a big "thud" and then Landon started giggling. I knew something was up. I did not, however, expect to find this:
And doesn't Duke look mighty proud of himself? Duke's not a big dog. Maybe about 22 pounds and pretty short, but he's apparently an amazing jumper. I thought it was a fluke. You know, maybe his stampeding gave him enough momentum to fly into the crib. Makes sense, right?
Landon's currently sleeping in his pack 'n play until I can figure out a way to keep him from leaping out of his crib and it's worked out fine for the past few days. But just a few minutes ago, while Landon was once again supposed to be napping, I realized I hadn't seen Duke in awhile. I expected to find him pulling dirty diapers out of the trash again, but instead: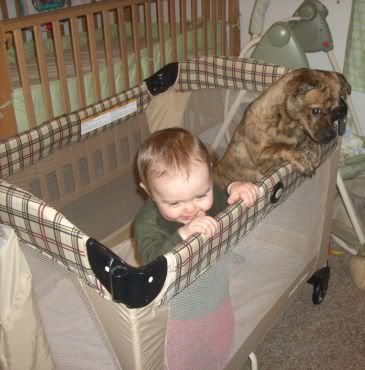 I pulled him out, tried to be angry with him while suppressing my giggles, and went about my business. Five minutes later: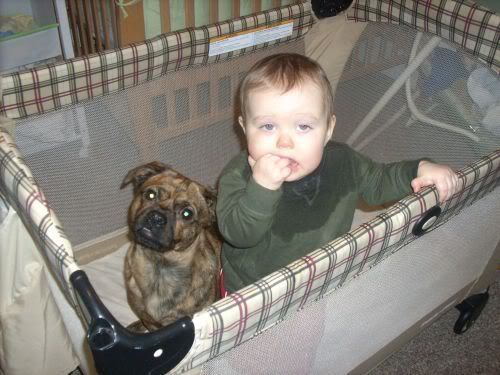 So Duke is now spending naptime in the kitchen until he learns to control himself.