My mom's made this mix every Christmas for as long as I can remember. I used to get so angry when most of it got packed up as gifts. I don't know where the recipe came from or how long she's had it so I'm just gonna call it SheeShee's Christmas Snack Mix.
My mom is SheeShee obviously. Her name's Sharee but it got changed to SheeShee when my cousin Jon was a baby. We were in Vermont one summer and Jon was 2 1/2 or so and he'd just started talking. He was told not to go near "Sharee's cup" because it had coffee in it and he pointed at it and said "SheeShee bup!" It was the first time he'd ever put two words together and the name SheeShee stuck. That was just over 9 years ago. So I'm 22 years old and still call my mother SheeShee. Yup.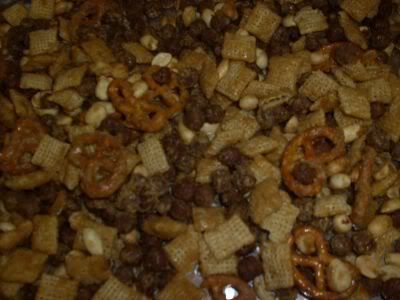 SheeShee's Christmas Snack Mix
(straight from a SheeShee email)
3 c. Cocoa Puffs
3 c. rice cereal squares (or any of the square cereals)
1 1/2 c. small twisted pretzels
1 c. dry roasted peanuts
1 c. packed brown sugar
1/2 c. butter
1/4 c. light corn syrup
1/4 t. cream of tartar
1/4 t. baking soda
1/2 t. vanilla
Combine cereals, pretzels and nuts in 9x13 baking pan (metal works better). In medium sauce pan, cook brown sugar, butter and light corn syrup over medium heat until it comes to a boil. Let the mixture boil without stirring for 4 minutes. Remove from heat. Stir in cream of tartar, baking soda and vanilla. Pour over cereal mix in 9x13 and stir gently to coat. Bake in 300 degree oven for 30 minutes, stirring after 15. Spread on foil to cool. Keep in covered container.