I wasn't excited to try
this
recipe. It was one of those recipes that got thrown on my mealplan when I couldn't think of anything else. I put off making it until I had absolutely nothing else left in the house, and I only used two chicken breasts because I
knew
we were going to hate it.
But I was wrong. What else is new, right? It had such a weird (but good) flavor. Spencer was very upset with me that I had only made two pieces. Mainly because that meant he had to fill up on veggies, but still. He liked the chicken.
I cut it up into bite-size pieces and baked it for about 17 minutes. After it was done, I put the sauce on the stove and thickened it up a little.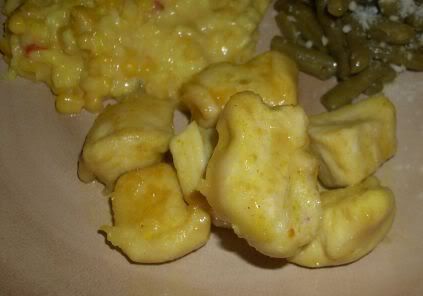 The corn casserole that's in the back of the picture is my Aunt Pat's recipe. I decided not to post a picture of it by itself because, well, it just wasn't pretty. It's so good though.
Aunt Pat's Corn Casserole
2 cans Mexicorn
1 small package Mahatma saffron rice
1 stick margarine (or I guess you could use butter...)
1 can cream of celery soup
1 cup sharp cheddar cheese
Prepare rice according to package instructions. Add margarine and soup. Stir until combined. Add corn and cheese. Combine all in baking dish. Bake for 30 minutes at 355.