Can I tell you how glad I am that Christmas is over? I was so stressed out by the time the big day rolled around that I felt like curling up in the corner instead of going anywhere. Okay... got that out...
My cookie tins were well recieved. I was so proud when I got an email from my grandma saying that she finally had to take the tin away from my grandpa so he wouldn't eat everything at once! And let me tell you my grandpa is honest to a fault and would tell me straight up if my cookies sucked.
These are Caramel-Brittle Shortbread Thumbprints. Whew. That's a mouthful. I'll admit to not even trying these. By the time I was finished baking, sprinkling, and drizzling I never wanted to look at these cookies again. Spencer said they tasted like a candy bar so let's all pretend to believe him.
I don't really know where the recipe came from. I clipped it out of some magazine and of course, I forget to write down which magazine it came from. Geez Amanda, get your priorities straight.
Caramel-Brittle Shortbread Thumbprints
22 caramels, unwrapped (I'm really glad it said that because I was gonna throw the caramels in the pot completely wrapped. I was.)
3 tablespoons whipping cream
1 cup butter, softened
2/3 cup packed brown sugar
1/2 teaspoon vanilla
2 3/4 cups all-purpose flour
1/4 cup whipping cream
2/3 cup crushed peanut brittle
1/2 cup semisweet chocolate pieces
2 teaspoon shortening
Preheat oven to 372. Heat and stir caramels and 3 tablespoons whipping cream in a small saucepan over low heat until mixture is melted and smooth. Set caramel mixture aside.
Beat butter in a large bowl for 1 minute. Add brown sugar and vanilla. Beat until combines. Add half the flour and 1/4 cup cream. Beat in the remaining flour until just combines. Stir in 1/3 cup crushed peanut brittle.
Shape the fough in 1 1/4 inch balls. Place balls 2 inches apart on ungreased cookie sheets. Use your thumb to make a large indentation in the center of each cookie.
Bake in preheated oven about 10 minutes or until edges are set. Re-press centers if necessary. Spoon about 1 teaspoon melted caramel into each cookie center. Spinkle cookies with remaining 1/3 cup peanut brittle. Let cool on wire racks.
Heat and stir chocolate pieces and shortening in another small saucepan over low heat until chocolate mixture is melted and smooth. Let cool slightly. Drizzle chocolate over tops of cookies. Let stand until chocolate is set.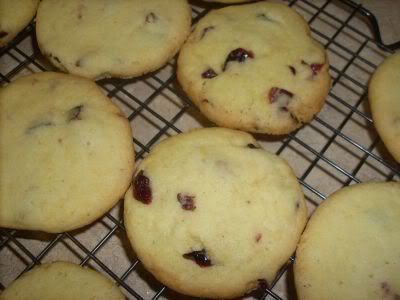 Well those sure are some ugly cookies. But they were
good
. Recipe came from
here
. I followed exactly except I didn't roll them in sugar and orange zest because I threw away my orange without getting all the zest off! Urgh! These cookies were seriously amazing though.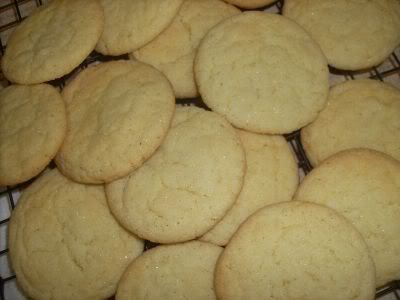 My not-puffy Snickerdoodles. They were basically just sugar cookies rolled in cinnamon sugar but I guess they pass as snickerdoodles. I used
this
recipe from AllRecipes and according to one of the reviewers, I need to see if my baking soda has expired.
I love white chocolate and I think anyone who doesn't is a freak. (Yes Megan, that means you!) This bark was really simple and really good. My grandma asked for the recipe and I was kinda embarassed to tell her how simple it was.
White Candy Bark
from
Quick Cooking
1 tablespoon butter, melted
2 packages (10 - 12 ounces each) vanilla or white chips
1 1/2 cups walnut halves
1 cup dried cranberries
1/4 teaspoon ground nutmeg
Line a baking pan with foil and brush with butter. Set aside. Place the chips in a microwave safe bowl. Microwave, uncovered, for 3 - 4 minutes; stir until smooth. Stir in the walnuts, cranberries, and nutmeg. Spread into prepared pan. Chill until firm. Break into pieces.