I hate tomatoes. They're just so gooey and... yuck. I can eat tomatoes when they're chopped up and mixed with something, but a whole tomato, or even a slice, disgusts me. When I was growing up, my mom would have a plate of sliced tomatoes on the table at almost every meal and my dad and I would just look at her like she was crazy. We weren't touching that!
I
love
tomato soup though. Before I met Spencer I lived on the Amy's Tomato Bisque in the cans. Oh geez. Those are amazing and well worth the insane $3 a can. Once I got pregnant, I started drinking the Campbells Soup at Hand tomato soup in the mornings when I had to be at Starbucks at 5 am. And now I'm drinking V8. I still hate tomatoes though.
Anyway... this recipe came from my Aunt Micki. According to her, my grandpa's mom made a version of this for him growing up and then my grandma made it for her kids, and now Aunt Micki makes it for her two boys. I don't remember my mom ever making it though. I was deprived.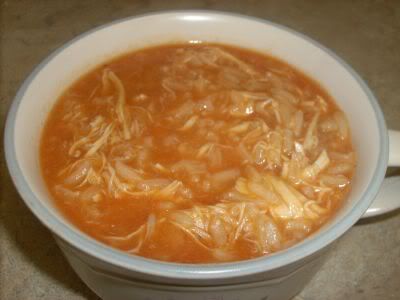 We loved it! I made a huge pot of it and it's all gone. :(
Tomato, Chicken, and Rice Soup
1 whole chicken
2 cans chicken broth
2 cans tomato soup
1 cup uncooked rice
dash of Worchestershire sauce
salt and pepper
Boil chicken until completely cooked. Pull chicken out and skim fat off the broth. (
I'm a freak and can't use homemade chicken stock until after I let it cool and make sure I get every bit of fat out of it so I used some that I had in the freezer.
) Add the two cans of extra broth. Bring to a boil. Add rice, turn heat down, and let simmer until rice is cooked. Add tomato soup and bring to a boil. Let cook until combined. Pull chicken off the bones and shred it. Add it to the top and let simmer for another 30 minutes.