This post should probably be called "A Bottle of Frank's Hot Sauce with a Side of Lasagna" but we'll all agree to overlook that.
A few weeks ago the Nest had a bunch of posts about buffalo chicken lasagna and it made me want to try it. The recipe floating around the boards was a Weight Watchers version and since Spencer would never let me get away with that, I went on a search for a recipe. And came up empty.
I did manage to come up with something that's pretty good. Spencer
loved
it, because seriously, what doesn't he love? We both agreed that we couldn't eat it to often though.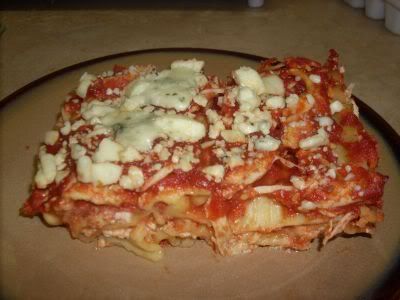 Buffalo Chicken Lasagna
1 pound boneless skinless chicken breasts, cooked and shredded
28 ounce can of crushed tomatoes
2 cups tomato sauce
1 clove garlic
1 tablespoon oregano
1 bay leaf
1 bottle Frank's Hot Sauce (scale down if you need to!)
15 ounces ricotta
1 egg
2 cups mozzarella
1 cup blue cheese
lasagna noodles
Cook garlic in olive oil for one minute. Pour in crushed tomatoes and tomato sauce. Add garlic, oregano, and bay leaf. Let simmer 15 - 20 minutes. Remove bay leaf and stir in hot sauce. Add shredded chicken.
Combine ricotta and egg in medium bowl.
Cover bottom of 9 x 13 baking dish with sauce, just enough so noodles won't stick. Layer in the following order: noodles, sauce, ricotta, mozzarella. Repeat twice and finish with an extra layer of noodles and then sauce.
Cover and bake at 350 for 1 hour. Sprinkle with blue cheese and bake uncovered for about five minutes, or until cheese melts.