So I'm a cheeseball. What?
My best friend and I exchanged gifts this past week because we're both impatient Geminis. She got me a ton of amazing stuff but this was my favorite:
That's me! harhar
I'm a huge Desperate Housewives fan. Huge. We subscribe to Blockbuster Online and I just keep going through the seasons of DH when I can't find anything else to rent. I never get tired of it. So yay for a cookbook!
I had to try it out immediately, of course, and since Spencer was home all weekend I decided to make him a semi-breakfast. Blueberry muffins!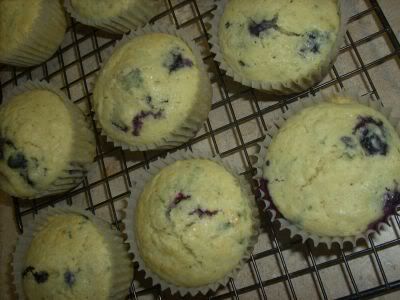 I thought the muffins were okay. I got spoiled during my stint at Starbucks because their blueberry muffins are huge, super sweet, and have that crumbly goodness on top. So maybe that's why I thought these were just okay. Spencer loved them. He ate twelve of them yesterday. Yes twelve muffins in about 12 hours. I apparently don't feed him enough.
Blueberry Muffins
From
The Desperate Housewives Cookbook
by Christopher Styler
vegetable oil cooking spray
12 tablespoons butter, cut into 8 pieces
1 1/2 cup milk
3 large eggs
grated vest of orange
3 cups all-purpose flour
2/3 cup sugar, plus more for sprinkling on the tops of muffins
1 tablespoon baking powder
3/4 teaspoon salt
1/4 teaspoon nutmeg
1 1/2 cup frozen blueberries
Preheat oven to 400. Spray a 12-compartment muffin tin with vegetable oil cooking spray.
Combine the butter and milk in a small saucepan over very low heat. When the butter is half melted, pour them mixture into a small mixing bowl and stir until the butter is completely melted. Whisk in the eggs and orange zest thoroughly and set aside.
Stir the flour, 2/3 cup sugar, baking powder, salt, and nutmeg together in a large bowl. Add the berries and ross to coat with flour. Pour the milk mixture over the dry ingredients and stir gently from the bottom until combines. The batter will look lumpy.
Divide the batter among the muffin tin compartments. Sprinkle the top of each muffin evenly with sugar. Bake until golden brown and a toothpick inserted into the center of a muffin comes out clean, about 22 minutes.
Cool on a wire rack for 10 minutes. Remove from the tins and cool completely before serving.
(The recipe says it only makes 12 but I got 22 out of it.)